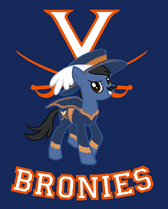 Welcome to the Wiki!
This is the comprehensive guide to all the workings of, quirks, art, technicalities, and little tidbits of information about the Bronies @ UVA, the official, university sponsored group of Bronies at the University of Virginia.
You can also check us out on the Rainbow Dash Network.
For more information, contact us at broniesuva@gmail.com .
Around the Wiki